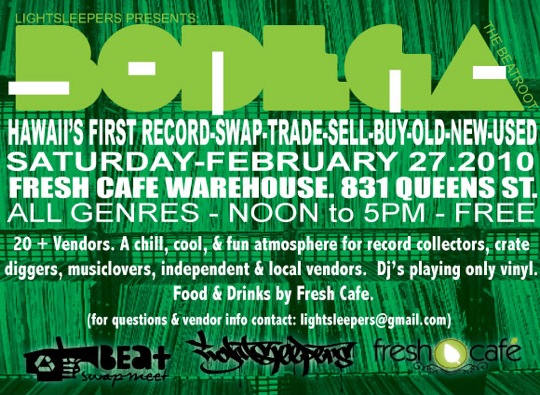 Hawaii crate digging and production fans take note.  Lightsleepers presents The Beatroot Bodega and Beatroot Grand Chamionships.
The Beatroot Bodega
Saturday, February 27nd, 2010 (12-5pm)
Hawaii's First Record-Swap-Trade-Sell-Buy
Food, Drinks, and Vinyl
Beatroot Grand Championships Producer Beat Battle
Wednesday, April 3rd, 2010 (9pm – 1:30am)
Qualifiers Ely, TKO, DJah, Devious, Chris I, & Earwig Origami will compete along with Sentric, Joe Gosalvez, Oliver Twist, DJ Observ, & Kavet the catalyst.
Fresh Cafe Warehouse
831 Queen st.
Honolulu, HI
Hit the break for the BeatRoot Grand Championships promo video!