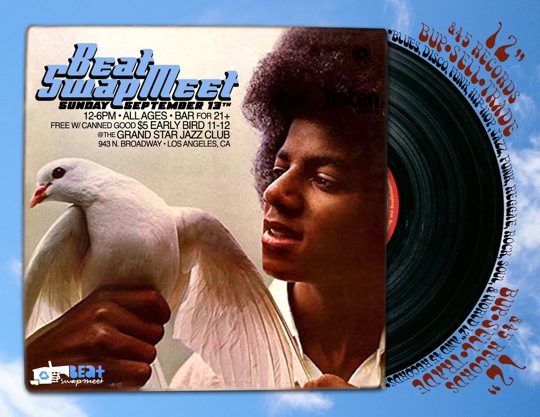 Once again… Beat Swap Meet takes place for all Los Angeles area record fiends.
BUY – SELL – TRADE
Blues, Disco, Funk, Hip-Hop, Jazz, Punk, Reggae, Rock, Soul, & World
12" & 45 RECORDS.
Beat Swap Meet takes place in Downtown LA's historic Chinatown district..
Sunday September 13th, 2009 (12-6pm)
All Ages
Casual drinking for the 21+
FREE W/ CANNED GOOD
$5 Earlybirds 11-12
12-6 Free w/ donation of at least 1 canned good
(canned goods go directly to the LA homeless community)
Grandstar Jazz Club
943 N Broadway
Los Angeles, CA 90012
Head over to Beat Swap Meet website for more event and vendor info.