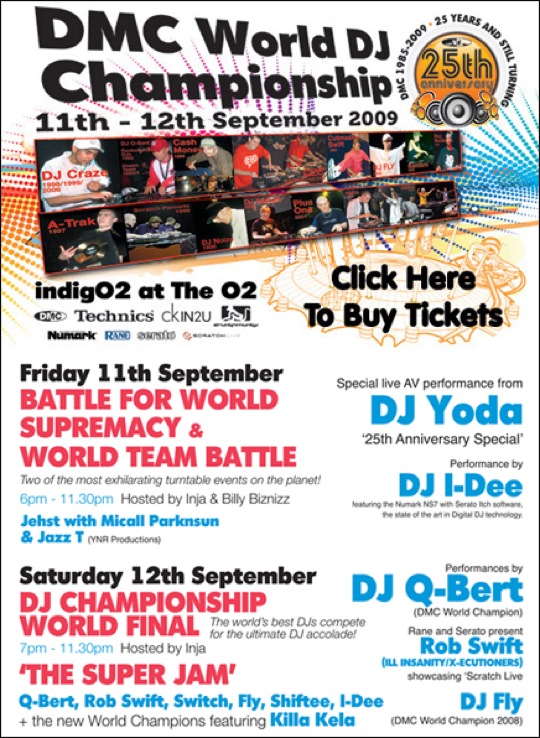 The 2009 DMC World Championships will take place on Friday September 11th & Saturday September 12th and marks the 25th anniversary of the DJ battle.  Feature performances are scheduled to include DJ's Yoda, I-Dee, Q-Bert, Rob Swift, and more.
Visit DMC World for ticketing info.
List of 2009 DMC competitors listed after the break!
2009 DMC World DJ Final Competitors (showcase style battle):
Benelux:  DJ ND
Bulgaria:  DJ Pekoe
China:  HBD
Italy:  DJ Mandrayq
Japan:  DJ Co-Ma  – 2006 DMC World Supremacy Champion
Mexico:  DJ Jimmix
New Zealand:  DJ Impact
Norway:  DJ Final
Philippines:      DJ Jam Masta
South Africa:  The Cutt
Spain:  DJ Soak
Taiwan:  DJ Kid
Thailand:  DJ Ma
UK:  DJ Jeppa
Ukraine:  DJ Shked
USA:  DJ Shiftee – New York City – 2007 DMC World Supremacy Champion
2009 DMC DJ Battle for World Supremacy Competitors (head to head battle):
Benelux:   DJ ND
Italy:  DJ Mandrayq
Japan:  DJ Shota
Mexico:   DJ Jimmix
New Zealand:  DJ Impact
Philippines:  DJ Jam Masta
South Africa: DJ Calculus
Taiwan:  DJ Afro
UK:       DJ Rasp
USA:       DJ Supreme – Turtle Island – 1991 Superman/NMS Champ & former DJ for Lauren Hill
+ Defending:  DJ Switch (UK)  – 2008 DMC Battle for Supremacy World Champion

2009 DMC DJ  Team Competitors:
Algeria:  Le Trio Du Jour
Italy:  Simple But Funk
Mexico:  Mexican Soul
Taiwan:       AKG
Thailand:  Paranormal
USA:  Battlestar (DJ Turbulence & DJ Phonics) – Los Angeles CA – 2005 DMC US Team Champions
+ Defending:  Kireek (Japan)  2007 & 2008 DMC World Team Champions