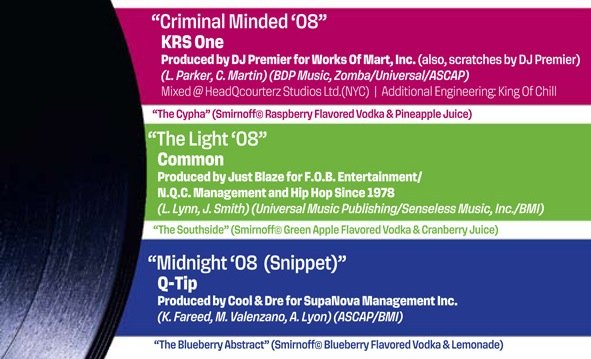 It's about that time for another vinyl giveaway… this time we're gonna hit off (2) lucky readers each with an exclusive, limited edition copy of the Smirnoff Signature Mix Series featuring KRS One, Common, and Q-Tip.
Smirnoff Signature Mix Series Vinyl:
"Criminal Minded '08" – KRS One (Produced by DJ Premier)
"The Light '08" – Common (Produced by Just Blaze)
"Midnight '08" (Snippet) – Q-Tip (Produced by Cool & Dre)
To win you must submit a comment to this post with an answer to the following question:
What is your favorite song, moment, or memory from either of the artists or producers involved in this project?
We'll choose our favorite responses as winners. Comments must be submitted before 12a.m Wednesday, May 14th to be entered. You may comment multiple times with no penalty. You must provide name and email address in your comment to be considered. Until then, enjoy the video for KRS One "Criminal Minded '08".