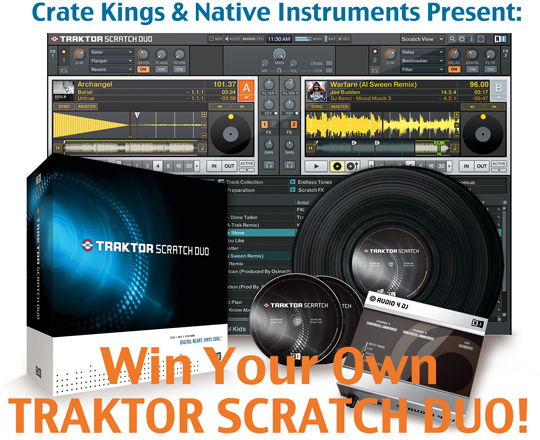 Crate Kings and Native Instruments have teamed up for a contest like no other! You've already seen the video of DJ Craze and DJ Klever battling it out, now here's your chance to win your very own complete copy of the newly introduced Native Instruments TRAKTOR SCRATCH DUO digital vinyl system!
For those that don't know, the TRAKTOR SCRATCH DUO digital vinyl system is a streamlined version of the already popular TRAKTOR SCRATCH PRO and boasts responsiveness that's twice as tight as other rival systems on the market… a feature that is very important to scratching DJ's and producers.
TRAKTOR SCRATCH DUO Features Include:
TRAKTOR Software:
Streamlined for essential DJ features including 2 control decks, auto beat grids, beat detection, Sync Lock, 3-band EQ, instant loop and set cue, multiple, fully customizable MIDI assignments, and full iTunes and iPod compatibility.
AUDIO 4 DJ Interface:
The included low-latency 24-bit/96 kHz, USB powered AUDIO 4 DJ Interface utilizes high-end Cirrus Logic AD/DA converters and offers four switchable inputs along with four hi-gain outputs.
Control Media/Vinyl:
The 120g control discs contain a 2 kHz carrier frequency that offers twice the tracking information of other systems along with unmatched response times.
Scratch Library:
Another quiet little secret of TRAKTOR SCRATCH DUO is that it comes with a 700MB library of scratch sounds, tones, loops, and juggle ready beats.

So how do you get your hands on one you ask? Here's what you need to do:
1. Visit TRAKTOR's Facebook profile page.
2. Visit TRAKTOR's Facebook fan page.
3. Send an email to contest@cratekings.com with the subject heading "NI TRAKTOR Contest" stating TRAKTOR's current Facebook FAN PAGE STATUS.
Entry Deadline: May 3rd, 2009 12am EST.
That's it! Winners will be chosen at random and announced on Crate Kings!!!
In the meantime, try the free demo of TRAKTOR PRO, check out TRAKTOR on MySpace, and visit Native Instruments for complete TRAKTOR specs, demo videos, and tutorials.
UPDATE: Congrats to our 2 contest winners Femi and Mario!!!