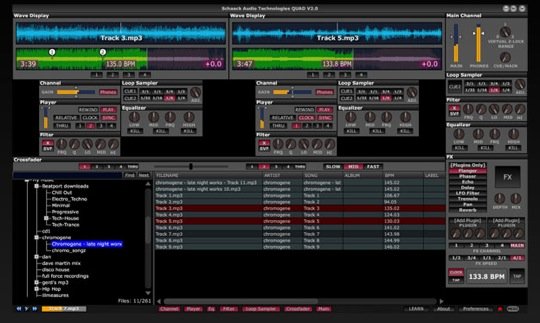 We've got another competitor in the digital DJ realm. This time Schaack introduces Quad 2, an open architecture Digital Vinyl System (DVS) that could prove to be a low cost rival to proprietary hardware devices such as Serato Scratch Live, M-Audio Torq, and Native Instruments Traktor.
More features and video after the jump.
Rather than using it's own hardware interface, Quad 2 work with any ASIO compatible soundcard with enough inputs and outputs. Another key selling point is that DJ's wanting to add further complexity to their performances can utilize up to 4 decks rather than the standard 2 deck solution.
Notable Features:
Allows connecting turntables directly to Line Inputs on the soundcard
Nearly every parameter is MIDI controllable
MIDI feedback for endless rotary MIDI controllers or motorized fader MIDI controllers
Resizable and completely user-configurable GUI: Channels may be shown/hidden, EQ/Filter/asf. may be shown/hidden
Support of MP3s and WAVs
Tempo-synchronization of up to 4 tracks using SYNC
1-deck support to mix up to 4 tracks
External MIDI Clock may be used as tempo sync source to sync Quad with drum machines or sequencers
Virtual Zero Lock Range makes pitch 0 really 0 and virtually eliminates the "resting point" at pitch 0 on old turntables
Recording the mix as .WAV (16 or 32 Bit) during mixing is possible
Keyboard shortcuts allow using Quad without touching the mouse
Preview Player for fast prelistening of tracks on Headphones
3-band Equalizers with parametric mids from 100Hz to 10kHz
Tempo-matched FX (Flanger,Phaser,Echo,Delay,LFO Filter,…)
Tempo-matched Loop Samplers
Any audio material (real Vinyl/CD's/Mic/…) may be routed from the soundcard's inputs into Quad for mixing and FX-processing
Crossfader with 3 curves
ID3 Tags are editable
4 assignable Cue Points per track
Compatible with Windows XP, Vista, and Mac OS.
Quad 2's full price of 89€ (approximately $130 US) includes 4 pieces of Timecode Vinyl with replacement vinyl available for $21 each.
Head over to Schaack to download the free limited feature demo.