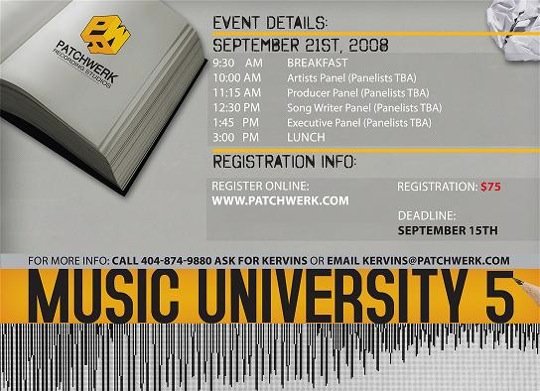 Atlanta's Patchwerk Recording Studio presents a mini-workshop/clinic focused on business matters of concern to those involved in various aspects of the music business. Now in it's fifth session, previous events have featured such notable figures as Bangladesh, DJ Toomp, Don Cannon (Aphilliates), Bryan M. Cox, DJ Nabs (So So Def), Drumma Boy, and more.
Included in your registration breakfast and lunch, plus panels focused artists, producers, songwriters, and executives.
Video of previous events after the jump.
Music University 4 DVD: $25
Event Registration: $75 (Must register by September 15th, 2008)
September 21, 2008
PatchWerk Recording Studios
1094 Hemphill Avenue
Atlanta GA, 30318
Visit Patchwerk to register or email for more info.
[via SOHH]