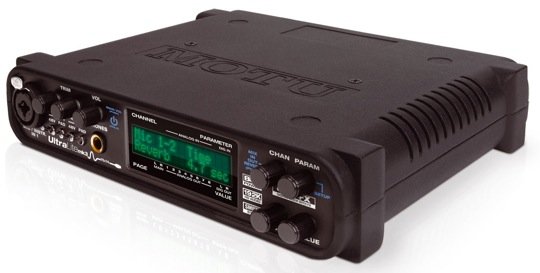 A couple of months ago I nearly drove everyone around me insane with my efforts to track down a new-in-box version of the MOTU Ultralite interface. Each phone and online search resulted with the device being on backorder and a cryptic response concerning future availability. However, being a determined and sometimes overly obsessive individual, I eventually coerced a commission eager Guitar Center employee to remove the purchase hold placed by another customer on the last available in-stock unit.
Fast forward two months… it turns out that my difficulty locating an Ultralite was due to MOTU's gearing up for an update… who knew? Anyhow, no word on the exact date yet, but a few online retailers have already begun taking pre-orders on the updated model.
If you're in the market for a new interface and run a compact or semi-mobile production setup needing MIDI support and a multitude of 1/4" inputs , the Ultralite might be worth considering. The ability to function as a standalone mixer with onboard reverb, EQ, and compression, makes this a viable option for many. I've personally been working with the Ultralite for a couple of months now and have nothing but positive things to say so far. Driver installation with Mac OS 10.5 was smooth and I've yet to encounter any issues integrating with Logic Pro 8.
Product Features:
Flexible 10 input/14 bus mixer with on-board DSP effects, including reverb with sends/returns, plus EQ and compression on every input and output.
10 inputs / 14 outputs – there's no channel sharing in the UltraLite-mk3; the mic inputs, S/PDIF I/O, headphone out and main outs are all handled as separate channels.
Front-panel control – access any setting in your entire UltraLite-mk3 mix directly from the front panel.
Stand-alone operation – program your mixes at the studio and then bring the UltraLite-mk3 to your gig – no computer needed. Just plug in the included power adapter and you are ready to go. Need to tweak the mix? Do it on site using the back-lit LCD and front-panel controls.
Multiple CueMix FX mixes – for example, create different monitor mixes for the main outs and headphones. Or add send/return loops for outboard gear – with no latency.
Eight 24-bit 192kHz analog inputs and outputs on balanced/unbalanced 1/4" TRS jacks
Precision Digital Trim™ – Digitally controlled analog trim on all analog inputs (mic/guitar inputs + quarter-inch TRS inputs) provides accurate adjustements in 1 dB increments. Fine-tune the balance of your analog inputs and then save/recall trim configurations.
Sample-accurate MIDI – connect a MIDI controller and/or sound module with no separate interface needed. MIDI I/O is sample-accurate with supporting software.
Expandable – add additional interfaces for more I/O as your needs grow.
Separate TRS main outs with front panel volume control.
Stereo 24-bit 96kHz S/PDIF in/out
Includes AudioDesk full-featured sample-accurate workstation software for the Macintosh with recording, editing, mixing, real-time 32-bit effects processing & sample-accurate sync.
Bus-powered. No need for external power when operating as a FireWire interface connected to a computer. A power supply is included for stand-alone operation.
See MOTU for more info.