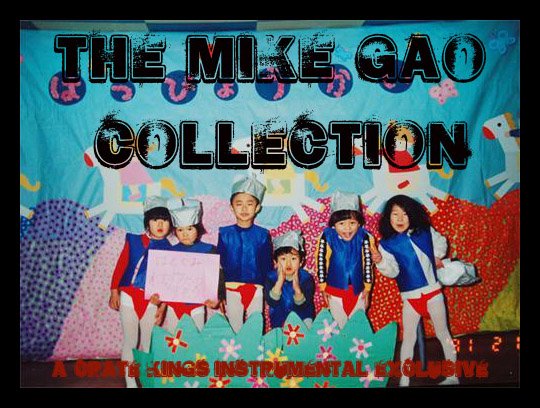 Daily readers surely know by now that we have no problem playing favorites here at Crate Kings. Whether it's the up and coming beatmakers, unrecognized producers, or just simply long time greats, we have no shame in politely beating you over the head with something that needs to be heard. That being said… we present you with Mike Gao!
For those not in the know, Mike Gao is that off-the-wall producer that recently demonstrated how to use headphones and beatboxing to trigger multi-layered MIDI signals using Ableton Live 7. Well, besides being an experimental gear head, it turns out that he's also a damn fine producer. In fact, I'm personally convinced that Mike keeps a bag of soul in his back pocket at all times.
The Gao was kind enough to bless us with 15 exclusive instrumentals and Q&A surrounding his history, gear, and production style. So, read on, grab a copy of The Mike Gao Collection, and have your ears converted to a new way.
Download: The Mike Gao Collection
How old are you? Where are you from? Where do you reside now?
23. I was born in Beijing, China, moved to Tokyo Japan, then Illinois, Arizona, and finally Cali. Been moving around in Southern Cali, was in KTown and Midcity for a couple years but back at my moms crib in Cerritos. Moving up to the bay on the 29th.

How did you get started and how long have you been producing? What inspired you to produce?
I technically started producing on some nerdy ass shit when I was 13 making "MODs" which were self-contained tracks that included the sequencing as well as the samples (compressed). These were made in DOS programs called trackers. Programming C++ was one of my hobbies, and there was a whole scene called the demo scene where programmers would demonstrate techniques doing dope visuals, accompanied by MOD music. In high school Cerritos had a strong hip-hop culture with crews like the Beat Junkies coming out of the area, a Stacks Vinyl (RIP) in the city.
How would you describe your style?
My style is ecclectic, technical and full of producer tricks. Attention to microtiming, digging and sample-work combined with DSP tricks and polyphony/chord/synth work.
What equipment do you use? Any upcoming purchases/gear lust?
I started off with just a computer + MIDI controller. I added a lot of gear but sometimes I feel like I could do the same thing with less gear. Right now I am on Kurzweil K2000S as main controller + use it for the V.A.S.T. architecture that still lets me create dope sounds, RME Hammerfall for my A/D and fast ass latency, Juno-106, Access Virus, two dual core computers (laptop + desktop), Rane 56 for scratching, 1200s, Novation RemoteSL25 for live use, Korg PadKontrol, Kaoss Pad 3, Serato Scratchlive. Working at Turntable Lab helped coz I got to put shit on the tab (still owe them like $100)
Are you currently working with any artists/crews or upcoming projects?
Working on a project with Luckyiam. Originally an EP with him for Japan, but that ended up becoming his main album. But tracks might get split up and put on separate projects depending on how label politics pan out. Also gotta instrumental project in the works. Instrumentals sell a lot better on vinyl than indie rap it seems. Gotta European label dropping that shit soon.
Who are your top five production influences?
Dilla, Aphex Twin, Meaty Ogre, Maker, Nick Sena