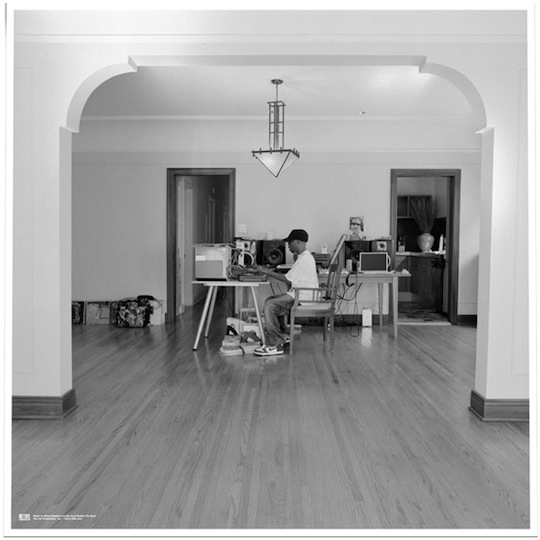 Crate Kings readers surely know by now the pictorial greatness of the book Behind The Beat, a collection of photos of producer home studios.
Stones Throw has come together with photographer Raph Rashid to make one of the most memorable photos from the book available as a 28 x 28 inch poster printed on flat (non-gloss) paper. The poster, which is only $12 and worthy of mounting in any studio, is sure to inspire greatness in anyone willing to will to embrace it.
Back in 2005, photographer Raph Rashid was hoping to complete a book of hip-hop home studios by getting pics of J Dilla at work in Los Angeles. Unknown to all but a small circle of people at the time, J Dilla had been in and out of the hospital all year dealing with increasingly serious health problems. It was summer, during a brief period when Dilla was home, working on The Shining, looking and feeling good, when Raph came to take this picture. It was published with others later that year in his book Behind the Beat: Hip-Hop Home Studios.
Head over to the Stones Throw online store to grab your own.