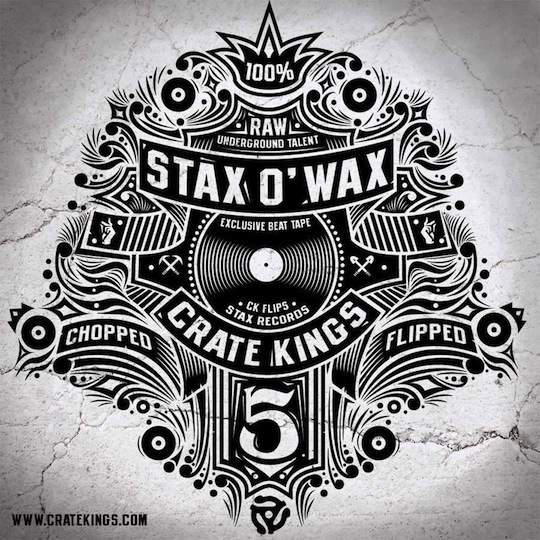 Here we present Crate Kings 5: Stax O' Wax, a reader created instrumental tribute to Stax Records and the groundbreaking artists and music that made the label legendary.
Such notable artists as Issac Hayes, Booker T & the MG's, Albert King, Otis Redding, the Bar-Kays, and Rufus Thomas provided the foundation for the tracks while each producer sampled, chopped, flipped, reworked, and added some of their own soul to create something uniquely inspiring and new.
The compilation, which consists of 37 tracks original tracks, was mixed by Rafferty and features original artwork by Flipa. Special thanks to each producer for taking the time to participate. Your talent and contributions are always appreciated.
Please feel free to download, repost to your own website or blog, and shout CK5 from mountaintops. I'm sure that you won't be disappointed.
Download – Crate Kings 5: Stax O' Wax
Tracklist after the break!
Tracklist:
1. Rafferty Funksmith – Stax of Wax Intro
2. Broskie Woskie – Thr33 The RAW Way
3. UhOh – Travelled Road
4. The Close Shop – Oddity
5. Kwes the Bess – Walk You Home
6. Parry Illest (P.illa) – Hayestacks
7. Four Eights – Soul Jabes
8. Qurz – Stax of Wax
9. R. K. Cerman – Grab This Thing
10. NormalZ – Long Jumping
11. Saint Bastard – Stax On Stax Off
12. Jajoe – Thicker Than Water
13. WHP – Staxasaurus Rex
14. AMFM – Love You
15. Crushproof – Lifted
16. Jajoe – Over
17. Flipa – True Love
18. Parry Illest (P.illa) – Bosac
19. Flipa – Hayes
20. B. Dolla – Doggone Good
21. AMFM – AMFMISAAC
22. WHP – Staxerlude
23. Rafferty Funksmith – Steady Beakin'
24. Yabba – Walk On
25. The Close Shop – Booking
26. R. K. Cerman – Stay
27. RESTLESS – $50 Habit
28. Flipa – Parker
29. A Word From Mr Isaac Hayes
30. Panamacanal – Watts
31. Qurz – Cruisin' Route 66
32. R. K. Cerman – I Know
33. Crushproof – Fatal Barbs
34. Astatic – Woo Hoo
35. Cashus Flow – Firework Finale
36. Chi-Stey – Good As Gold
37. Parry Illest (P.illa) – Born To Love