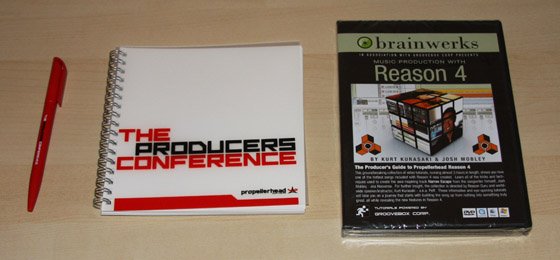 Up for grabs is a study package consisting of a copy of Brainwerks Music Production With Reason 4, Propellerhead notebook, and a pen. The DVD features step by step instruction by songwriter Josh Mobley (aka Neoverse) and was directed by Reason speaker/instructor Kurt Kurasaki with over 50 tutorials in the following categories:
Introduction to Reason 4
Drums & Percussion Programming & Arrangement
Sequencing & Arrangment
Song Development
Song Arrangement
Vocals in Reason 4
Dynamics Processing
Special Effects
Engineering a Mixdown
Mastering
To win you must submit a comment to this post with answers to the following question:
What was your favorite orginal sample of all time and why?
We'll choose the best response as our winner. Comments must be submitted before 12a.m Thursday, June 5th to be entered. You may comment multiple times with no penalty. You must provide name and email address in your comment to be considered.
**UPDATE: Congrats to theabstract for winning the DVD package!