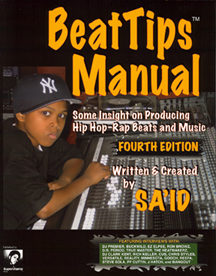 In addition to providing an outlet for my musical rants, obsessions, and other mental wanderings; one of my favorite aspects of running Crate Kings is the increased ability to run into great products and people. I am a self admitted fiend for anything production or Hip-Hop related and will scour the ends of the earth to increase my knowledge and understanding of the art form. Much like digging for records, usually much of the material that I run across is somewhat of a disappointment, but every once in a while I stumble across a true gem. This, of course, brings me to the recent release of BeatTips Manual 4th edition by Sa'id.
I've seen BeatTips Manual around the net for a few years and recently ran into a press release about the 4th edition being available. Running Crate Kings keeps me on the lookout for new material about Hip Hop production and needless to say I was extremely excited about getting the chance to read it. With the abundance of questionable material available on the topic, I tend to be a bit apprehensive about books or materials specifically geared towards Hip Hop, but this time I was amazed at what I received. Initially, I was overwhelmed when the package arrived as this is truly a manual with almost 300 large pages of material shrink wrapped and packaged to perfection. I also have to mention that Sa'id is very responsive, professional, and ships extremely fast!
Being a record digger at heart, I was immediately won over by Sa'id's declaration that "sample based producers are only as good as their record collection." Plus, his writing style and use of language is technical enough to explain key processes and concepts, yet simple enough that rereading is unnecessary unless you would actually enjoy doing so. With that being said, this is by far the single best book focusing on sample based Hip Hop production and an absolute must read and for anyone beginning or continuing their journey into production. It will prove highly valuable and pay countless dividends to anyone willing to invest a minimal amount of time (I devoured the material) and money to obtain the vast wealth of knowledge and wisdom contained in its pages. Also, with the over 100 pages of interviews from renowned producers such as: DJ Premier, Rsonist (Heatmakers), Buckwild, D.R. Period, Ron Brownz, Tru Master, Minnesota, and others being worth the price of admission, the remainder of the book acts as a triple bonus.
BeatTips begins from a base of brief Hip Hop history, moves into personal production tastes/style, and then into equipment selection based upon the particular sound that is desired. While much of the equipment information is geared towards hardware based producers, a perfect conceptual balance was attained for those preferring to use software samplers and synthesizers. Sa'id immediately addresses the all too often ignored fact that identical equipment types are not ideal for all production styles, allowing the reader to proceed by making selections that are perfectly tailored to the individual.
Many lessons and secret tidbits that have taken me years to learn were revealed in a few insightful pages. This undoubtedly will shave considerable time off your production learning curve and set you free to focus energy on the creative process of making actual music. Some specific topics that really caught my attention were:
Five Types of Samples – I thought that I was the only person who analyzed beats and samples to this degree. Sa'id actually systematically breaks down what many thorough producers have only inferred or semi-vocalized.
Time Stretching – It took me a year to fully understand the use and significance of time stretching. It was simply out of hardheadedness and an unwillingness to learn a new feature that I wasn't making beats anywhere near the quality that I should have been making.
Business Acumen – Although my latest venture with CrateKings.com has been an overwhelming success, I realized that I've neglected a number of important business concepts. Quite a bit of the manual is dedicated to important items such as business structure, contracts, and networking. One of the most valuable selections of the book was the chapter discussing the purpose, construction, and use of a beat CD.
Sample Chopping Practice Sessions – This, along with his recommended headphone selection (which upon reading the passage, I immediately traveled in a rainstorm with a non-functioning driver's side windshield wiper to obtain a pair), was an immensely valuable tip and made the light bulb go off in my head. I couldn't believe that I hadn't thought of this idea before.
Significance of Drums – A good portion of the manual was dedicated to the extremely important topic of drum programming. Sa'id dissects how a complicated, multiple machine midi setup is best connected, used and even goes on to discuss topics such as amassing a drum collection, pad assignment, timing, drum pattern variations, chopping sounds, sample manipulation.
Now… that's pretty much all I can say without giving away too many of the goodies, but the point has been made. At $15.95, plus shipping, BeatTips Manual by Sa'id is a not only a bargain, but must have for any serious student of Hip Hop production. I even recommend the manual to those who may not be directly involved in Hip Hop production, but are simply fans wishing to have a deeper understanding of the behind the scenes craftsmen responsible for countless hits and the alteration of pop culture. You have my personal guarantee that this will not only supply you with vast knowledge concerning Hip Hop production weapons and tactics, but most importantly will completely reshape you thoughts, attitude, and philosophy toward Hip Hop.
Make sure you get your copy immediately at BeatTips.com.