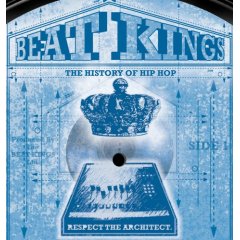 This hasn't really been getting the best reviews around the net, but for some reason I still headed down to my local Newbury Comics and managed to find a copy of Beat Kings: The History of Hip Hop. Filmed, produced, directed, and scored by Wu-Tang Clan's Mathematics, this film documenting the history of Hip Hop production is actually of very high quality and extremely well produced. I was surprised to find how very informative and entertaining it was to hear from a number of hip hop legends talking about their equipment and the philosophies that have gone into their music. This was definitely not an instructional video on how to make better beats, but more of an inspirational video to make the up and coming producer want to make something hot.
In addition to interviews with some of the most notable producers such as: Prince Paul, DJ Premier, Pete Rock, David Banner, Havoc, RZA, Marley Marl, Just Blaze, and Kanye West, there are bonuses such as beat battle and off the cuff producer rants. It was like crack rock to a Hip Hop head hearing the RZA dispensing advice for producers to keep making beats no matter people say about them. Plus, watching David Banner go on a tirade about producers overcharging for beats was like nothing you have ever seen. Unlike the upcoming review of the Dynamic Producer's Ten Track Commandments, this DVD is definitely worth spending $15 dollars and what I would consider to be a must have for every aspiring and future Hip Hop producer.
Make sure you check out the beat battles taking place in the Crate Kings Forums.