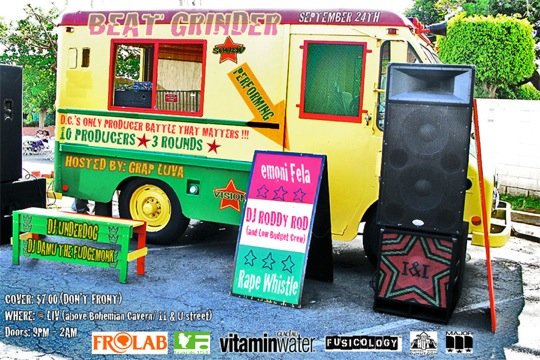 Once again it's on. The Tru Skool "Beat Grinder Championship" is the only beat competition that matters for the DC area. Ten producers battle it out for the Beat Grinder crown. One producer goes home as king. Tru Skool is know for hosting great events, and "Liv" at Bohemian Cavern has provided the arena.
Hosted by: Grap Luva
Dj's: Damu the Fudgemunk and Underdog the DJ
Performing:
Emoni Fela
DJ Roddy Rod (w/ Lo Budget Crew)
Rape Whistle
Sign Up to Battle at MAJOR (1426 Wisconsin Avenue….admission is $5.00 before September 19th and $10.00 between the 19th & 22nd)
Givaways all night long!
Where: Liv @ Bohemian Cavern
When: September 24th / 9PM to 2AM
Age: 18 to chill / 21 to spill