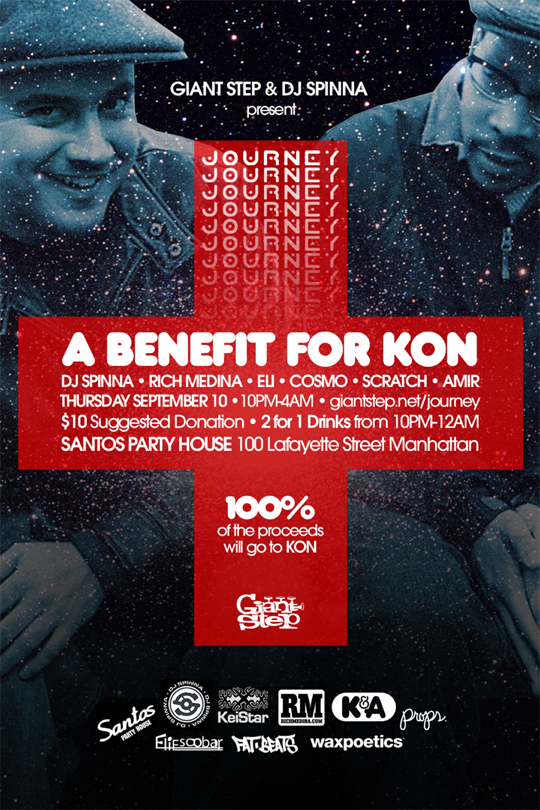 A benefit will be held for Kon, the other half of Kon & Amir, who has recently experienced a number of extremely serious health issues, which have lead to multiple hospital visits and limited personal mobility.
IVE LOST ABOUT 30 LBS, BEEN FIGHTING OFF FEVERS DAILY, DEPRESSION ( IM NOT USED TO THIS LIFESTYLE) EXTREMELY PAINFUL FLUID IN MY LEFT LUNG… ALONG WITH A BLOOD CLOT WAITING TO DISSOLVE.
OH, THERES MORE…. BUT I THINK YALL GET THE PICTURE. THIS IS JUST THE BEGINNING, IVE YET TO GET WELL ENOUGH TO HAVE MY OPERATION. WHICH WILL SET ME BACK ANOTHER 3 MONTHS TO RECOVER.
The event will feature such notables as DJ Spinna, Rich Medina, Eli, Cosmo, Scratch, and Amir with 100% of proceeds to benefit Kon.
Thursday September 10th, 2009
Donation: $10
Santos House Party
100 Lafayett St.
Manhattan, NY
Please be sure to leave a kind word for Kon over at his blog.