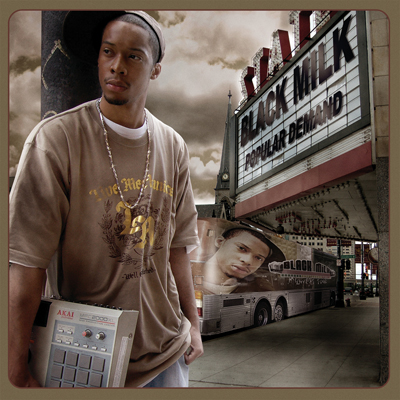 After spending another 9 hours in the corporate cubicle farm returning frantic voice messages and replying to panicked emails, I was able to peel myself off the adjustable generic office chair and slink past the security desk to sweet freedom. Immediately upon liberation I pulled out my IPod, started rocking Black Milk's August '05 Beat CD, and realized that there are some serious life and production lessons that can be learned from his instrumentals. Lemme run 'em down real quickly for ya…
Hi hat + hi hat = snare
Intentionally abrupt transitions and sloppy sample chopping sound just as good, if not better, than perfectly smoothed out loops.
Vocal samples chopped into syllables can be made into unique instruments.
Sampling is better than not sampling
Fluctuating velocity is a very good thing
There is a time and place for quantization.
Random and out of place sounds can make a composition very interesting.
Pay attention to the rules of production… then break them.
Make music for yourself and that you would listen to when by yourself.
Most innovators aren't understood until the innovation is over and done with.

By that time they have more than likely moved onto something else that is misunderstood.
Joints I'm feeling Right Now
BeatTips Manual by Sa'id (book)
Wax Poetics issues 1, 2, and 7
Black Milk – August '05 Beat CD
Flying Lotus – 1983
Donny Hathaway – Everything Is Everything
33 1/3 Endtroducing by Eliot Wilder (book)
Cru – Da Dirty 30
Hard 2 Obtain – Ism & Blues
The Rap Records – Freddy Fresh
Reviews of the Roland MV-8800 (I've developed a really bad case of gear lust for this thing!)