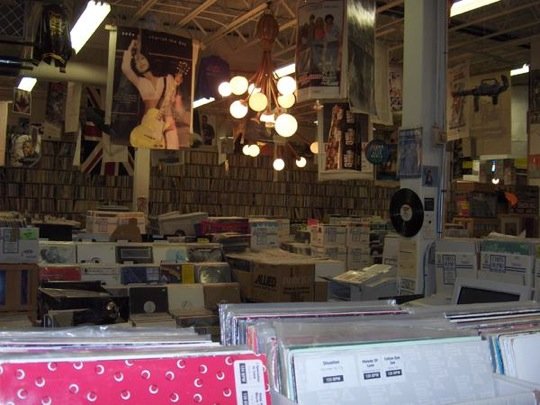 Attention all Kansas City area crate diggers:
Here's a chance to swell up your record collection on the cheap with a huge record sale and public auction of merchandise from The Music Exchange.
Dollar Record Blow Out Sale – Wednesday, July 16 – Saturday, July 19 and Wednesday, July 23 – Saturday, July 26 (10AM – 4PM Daily)
All records will be sold for $1 each, regardless of the original retail price ($5 to $50) with fresh stock to be added daily
250,000+ LP's of all music genres including:Blues, Jazz, Gospel, Classic Rock, Classical, Country, Imports, Pop, R&B, Rock, Soundtracks, Comedy and many more.
Public Auction – Saturday, July 12th, 10AM (Preview Friday, July 11th, 1-4PM)
Included in the auction are all store fixtures, record storage, showcases, shelving, crates, desks, chairs, tables, flip racks, metal swivel racks, filing cabinets, metal shelving units, lamps, fans, tags, labels, store displays, shopping cart, bookcases, shrink-wrap machine, vintage magazines, autographed memorabilia, framed art and mirrors, movie and concert posters, neon signs, etc.
Additional questions: See the Sunflower Auction website or contact Gregg at (913) 491-2930.
The Music Exchange
1413 West 13th Terrace
Kansas City, MO 64102