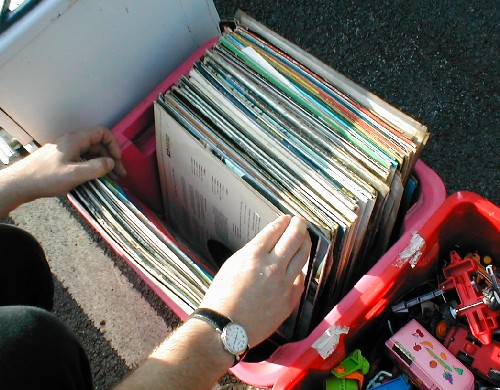 As many of you already know, I'm scheduled for a permanent move to Chicago at the end of June. I've lived in Boston for most of my life and, although it's definitely time for a change, it's proving difficult to imagine not living in my current neighborhood. The crazy thing about living in Boston's North End is the parking situation. It's not unusual to drive around for 45 minutes searching for a parking space and once one is found, having to leave it there for weeks at a time for fear of wasting a good portion of life driving around the neighborhood to find one again.
Anyhow, I drove my car today for the first time in weeks and forgot that I left a copy of Mobb Deep's Amerika's Nightmare in the CD deck. This album wasn't exactly my all-time favorite Mobb release, but it definitely had some joints that should be left on repeat a few times, especially the Alchemist produced "When U Hear The".
As usual, Alchemist's sample work was perfect, but what really caught me off guard was the moment when I consciously noticed my arm hair standing on end. About five seconds after this, Prodigy dropped the line, "I make your arm hairs stand up, it had to be me/Mixed with the A-L-C and H-A-V", and suddenly I had an epiphany about Hip Hop and some of the goals that aspiring producers should strive for.
Striving to make beats that make your hair stand on end could possibly be the single greatest philosophical idea about production that I've learned. I know the concept sounds overly simplified, and in actually is a lot more difficult than it sounds, but we are all intimately familiar with the feeling of stumbling upon a perfect sample, selecting perfect drums, and constructing a beat while instantly knowing that we are in the process of making a bona fide banger.
I can virtually guarantee that there is not one producer who hasn't had their hair stand on end while listening to their own best work. Of course, not nearly every beat is going to be that great, but we should strive to make music that we want others to hear due to pride in a great creation, not because we need reassurance or an ego boost to make us feel good about marginal work that belongs in the scrap bin. My general rule is that if you don't even like your beats or wouldn't listen to them if produced by someone else, then there is a serious problem.
The great news is that most, if not all, difficulties can be overcome with a strong work ethic. Spend more time digging the crates, read and learn everything you can about your craft, and make sure that your music is heard by any and everybody.
Joints that I've been feeling lately:
1. Alchemist – Rappers Best Friend
2. Redman – Red Gone Wild
3. Sun Ra – Atlantis
4. Deep Crates 2 (review coming soon)