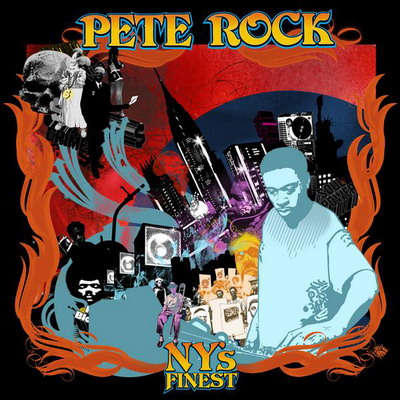 Back towards the end of 2007 I felt very optimistic about the prospects for Hip-Hop in the New Year. As a matter of fact I still do, especially when looking forward to hearing Pete Rocks latest release NY's Finest. I'm sure that I wasn't the only fan anxiously awaiting the return of the PR, so I have to assume that there are a few others out there itching to find out what he had in store for us.
NY's Finest starts out as strong as possible with a pieced together sample intro leading into "We Roll" which showcases Pete's signature panned horns coupled with soulful samples thereby setting the tone for the rest of the album. Never one to disappoint, all customary Soul Brother interludes are still intact and provide the necessary glue to hold together appearances from a strong roster of guest mc's including: Styles P, Sheek Louch, Lords of the Underground, Jim Jones, Doo Wop, Little Brother, Royal Flush, Raekwon, Masta Killa and Papoose.
More than just a compilation album, Pete Rock holds his own on the mic. Delivering semi-braggadocio statements like "I'm the f*cking poster boy for the MPC", Pete had no problem shifting gears and handing over production duties to Green Lantern on "Don't Be Mad". Is it considered bragging if you actually ARE the poster boy for Akai? Also, as expected, on tracks like "Best Believe" Pete gives honest commentary about the state of Hip-Hop and the personal responsibility of listeners where he states, "Your boy back man I'm sick of this bubblegum/Wack with a soda on the side that these labels and the radio is feeding us/You ain't gotta eat that stuff,I'm speaking off the cuff."
On the instrumental side, the layers and sonic quality are incredible with meticulous attention to all elements of the mix. It goes without saying that the quality of instrumentals and sample choice was impeccable. Check "The PJ's" for his reworking of David Matthews "Sandworms" and the stylish flip of Willie Hutch's "Let Me Love You" on "Let's Go".
The only elements of NY's Finest that left me a little confused were Pete's constant reference to 2007 and the reggae track "Ready Fe War" f/ Chip Fu Renée Neufville. I could be nitpicking, but the shouts to a year now past and abrupt genre switch seemed a little out of place in the middle of an otherwise cohesive album. Still, much respect goes to him for making an artistic stretch into others styles.
Regardless of any minor hiccups, NY's Finest delivers in every place it's supposed to. With tracks like "We Roll", "Comprehend", and "Bring Yall Back" instantly being placed on repeat, the whole album is a worthwhile investment to your music collection and guaranteed to stay in heavy rotation.