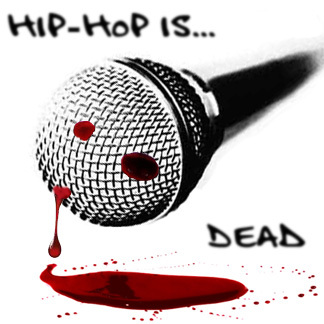 My main man DJ Trends offers a bit of insight into how and why Hip Hop has passed away in the last few years. Make sure you pay him a visit at Classic Riddims!
11. Every single rapper tells the same war story of how they hustled then decided to hang it up to be a superstar rapper.
10. All we care about is album sales. And don't forget number one ring tone sales since we don't buy the garbage anymore, we download it for free and buy a 10 second ringtone for $2.
9. Every artists album is preluded with 20,000 interviews on every radio station and magazine where they tell us to "buy ten copies" of their album on release day. Don't forget the horrible mixtape filled with freestyles over every hot beat where they basically copy the original artists lyrics and do everything but create an interesting twist on the original song.
8. All albums are not personal works, but a display of their talent in acquiring 16 bars verses from the hottest rappers and r&b artists of the moment and the last producers to have top ten hits.
7. Every album includes a record for the club, a record for the ladies, a record for radio and a record for the streets. All these songs end up contradicting each other. One song he's smashing 50 hoes at the club the next song he's in love with one woman.
6. Who is not beefing with at least 3 people right now?
5. After the number one hit finally dies down, the artists keeps it going with the "REMIX!!" which features Lil Wayne amd R.Kelly no matter what!
4. The only place woman have in hip hop is being the blood sucking baby mama on the verge of writing a tell all book, a groupie on her knees, or a half naked hoe in a video.
3. Every record label has every artist in a chokehold by giving them their own labels that they brag about as where they have "full creative control" but trust me if Jimmy Iovine doesnt think a g-unit production doesnt have a clear first single for radio that album aint coming out.

2. Literally, every song has content about going to the club, distributing the best crack everywhere, the unlimited money & hoes the artists has and what's on his neck(chain), wrist(bracelet), truck(rims), back( most expensive shirt possible), feet(most exclusive kicks) and legs (retardley expensive jeans). Name a rapper who is hot that doesn't remind of how much richer he is then everyone! If its not that he's telling us to do that dance!
1. The Jeezy mentality. "Nas isn't a real rapper cause he didn't bust his gun." And he ain't better than Jeezy cause his first week sales won't be like Jeezy's. I guess it doesn't matter that Nas uses rhyming words or that he doesn't have to say "thats right!!!" and "yeaaahhh" after every sentence.

For the best in classic Reggae and Dancehall check out the dope Classic Riddims! blog by DJ Trends.