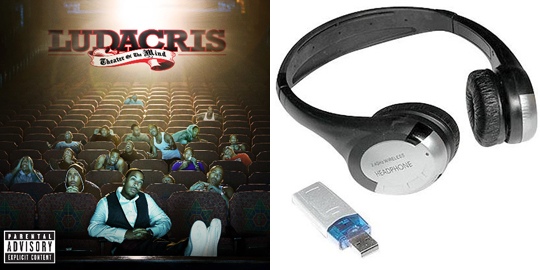 Let's get the holiday season started right! In preparation for the upcoming November 25th release of Theater of The Mind, Ludacris and Crate Kings have teamed up to give away a pair of Digital Age Walk-Free Wireless
Headphones along with a copy of the album to one lucky winner!
Enter for your chance to win by leaving a comment with the title of your favorite Ludacris appearance or song. Winner will be chosen randomly on November 25th, 2008 at 12am EST.
Digital Age Walk-Free Headphones transmit the audio from your computer in uncompressed digital audio format for the highest sound quality with a total range of up to 30 meters.
Ludacris Theater of The Mind track list after the jump!
Tracklist:
"Intro"
"Undisputed" co-staring Floyd Mayweather Jr. (scored by Don Cannon)
"Wish You Would" co-staring T.I. (scored by DJ Toomp)
"One More Drink" co-staring T-Pain (scored by Trackmasters)
"Call Up The Homies" co-staring The Game and Willy Northpole
(scored by Clinton Sparks)
"Southern Gangster" co-staring Ving Rhames, Rick Ross, & Playazx
Circle (scored by Street Runner)
"Everybody Hates Chris" co-staring Chris Rock (scored by Don Cannon)
"What Them Girls Like" co-staring Chris Brown and Sean Garrett
(scored by Darkchild)
"Nasty Girl" co-staring Plies (scored by Swizz Beatz)
"Contagious" co-staring Jamie Foxx (scored by Scott Storch)
"Last Of A Dying Breed" co-staring Lil Wayne (scored by Wyldfyer)
"MVP" (scored by DJ Premier)
"I Do It For Hip Hop" co-staring Nas & Jay-Z (scored by Wyldfyer)
"Do The Right Thing" co-staring Common & Spike Lee (scored by 9th
Wonder)
"Outro"