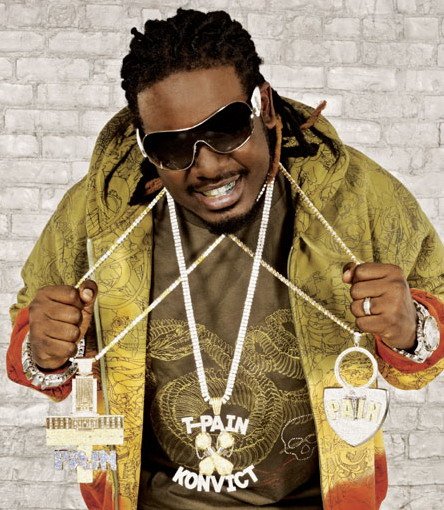 The original title of the post was going to be "T-Pain Is the Devil Incarnate", but something hit me at the last minute and figured that I shouldn't get biblical on him, that's just not good karma! Still, I know that I shouldn't blame the entire ruin of Hip-Hop on a scapegoat, but I'm from Boston, we blame everything on scapegoats, curses, or pretty much any excuse that's convenient at the time. Besides, if anyone is representative of the uncreative commercial crossover appeal responsible for accelerating the rot of Hip-Hop's rebellious spirit, it's T-Pain. Typically, I try to take a policy of ignoring the nonsense in the hopes that it will disappear, but your boy, Mr. "Epiphany", is the physical incarnation of everything vile and despicable that"s occurring in music today.
So, regardless of what the fallout may be, I stand by my statement. Up until now I've taken the diplomatic ideal politician approach to offering a critique of contemporary artists and their music, but this matter is something I have to just come clean and be blunt about. I know this all seems like it's coming out of left field, but it's actually been building up for quite some time now and I get the strangest feeling I'm not alone in my hatred for this one man minstrel show.
Remember when it wasn't alright to jack another person's style? Not only did T-Pain jack someone's style, he committed armed robbery on an entire career! I'll admit that it's in fashion right now to use the already overdone synthesized vocals. I'll even admit that every once in a while it sounds good on the chorus of an R&B joint. However, I want to vomit every time I hear record after record of T-Pain's tired use of the same synthesized vocal effect for the entire song. I'm not talking about one of those little baby hiccup vomits, I'm mean one of the hardcore exorcist style, he caught 4 feet of air, spewing chunks of last night's dinner type joints.
Does anyone remember Roger Troutman (R.I.P.)?! This is the guy that was featured on Dr. Dre's "California Love", sample by notable such as EPMD, Tupac, etc., and copied by virtually every R&B artist today. For those who don't know, Roger Troutman was the original 80′s funk master and undisputed king of the talk box (vocal tube synthesizer usually played with either a guitar or keyboard). Anyone who tries to claim otherwise simply doesn't know. Even the cats people who sampled Zapp & Roger in the past has the courtesy and respect to feature him in a video, use the original sample source, or somehow leave trace evidence that someone better had already created the sound. T-Pain has paid no such courtesy. Instead he's tried to pass off pseudo singing, boring content, and an overpriced drink coaster wrapped up in the shape of major release CD.
I mentioned all of this to a friend of mine and he responded by telling me that we're living in the age of retro urban music. Although it pains me to know that it's somewhat true, this particular use still doesn't sit right with me and is damn close to, dare I say, plagiarism. It reminds me of a quote I heard some time ago, which said something to the effect of "to copy one person is called plagiarism, to copy many is called respect." The normally applies to one artistic work or endeavor, but here's my question… what is it called when you copy a whole career?
To see how an original legend got down check out a little video I stumbled across. Zapp & Roger – "More Bounce To The Ounce"