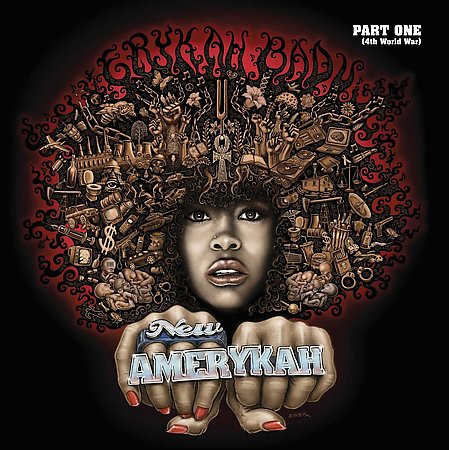 "In 1997, they accused me of being the queen of neo-soul … but the only thing neo-soul about me is the guy who made up the name." – Erykah Badu, Remix magazine, March 2008
"Hip-hop is bigger than religion." – Erykah Badu, "The Healer"
One of the most impressive things about Erykah Badu has always been her refusal to be backed into any one style. After the success of Baduizm and then "Tyrone" made her a star, she could have embraced the "neo-soul" label and morphed into a full-blown media darling. Instead, she's spent the past several years releasing bold, uncompromising records like 2000's Mama's Gun and 2003's Worldwide Underground EP.
Now, after five years without releasing a new album, Badu is back with the awkwardly-titled New Amerykah: Part One (4th World War). The new album features some of Badu's most personal lyrics to date and production that finds her focusing on the hip-hop side of things more than ever before.
Any discussion of this album's strengths must start with "The Healer." Over a menacing beat from Madlib that would fit right in on one of his Beat Konducta projects, Badu proclaims that hip-hop is bigger than both religion and the government. "We ain't dead yet," she sings. "We been livin' through your Internet." I hate to rant too much here, but "The Healer" is the kind of record you can just listen to over and over for hours at a time. I haven't been this instantly obsessed with a song since I first heard "Starz" by Jaylib.
Another great song from New Amerykah: Part One is "Honey," the hidden eleventh track. Badu's singing is as warm as ever, and the beat from 9th Wonder is full of life and catchy as hell. "Honey" has potential to be a big single for Badu, her biggest since "Tyrone."
Other album highlights include "Amerykahn Promise," a funky Roy Ayers collaboration, and "Telephone," a seven-minute ode to Dilla.
If New Amerykah: Part One has any weakness, it's that the most exciting songs come at the beginning and the end, leaving a middle section that is comparably ordinary. Songs like "The Cell" and "Twinkle" aren't bad, but it's still tempting to skip them when you know "Telephone" and "Honey" are just a few tracks away.
Overall, though, New Amerykah: Part One (4th World War) is a defiant, imaginative record, one that rivals anything else Badu has ever released. If nothing else, every hip-hop head should own this album so they can have "The Healer" in their collection.
Whatever you do, just don't call Badu the queen of neo-soul. I hear she doesn't like that too much.
-Review by Michael Walter