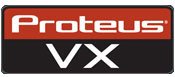 Who loves ya baby!? The folks over at E-MU has just dropped a gem on us with a free download of the full version of Proteus VX Software Sound Module software including the enhanced v2.0.1 Proteus X Composer Bank. That's right people… a completely unlocked full version!
Here's the kicker…"Proteus VX is not copy protected or card locked like other versions of our instrument and sampling software, and can be used either as a VSTi or in stand alone mode."
According to the website, no tutorial support is offered, however they do offer a complete manual.
Head over to E-MU and grab your free copy of Proteus VX.