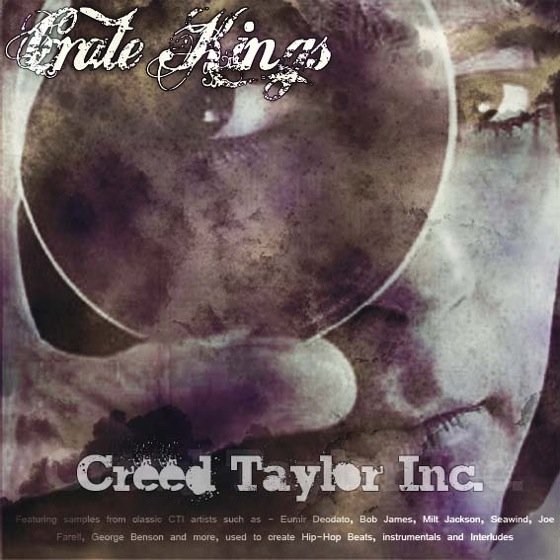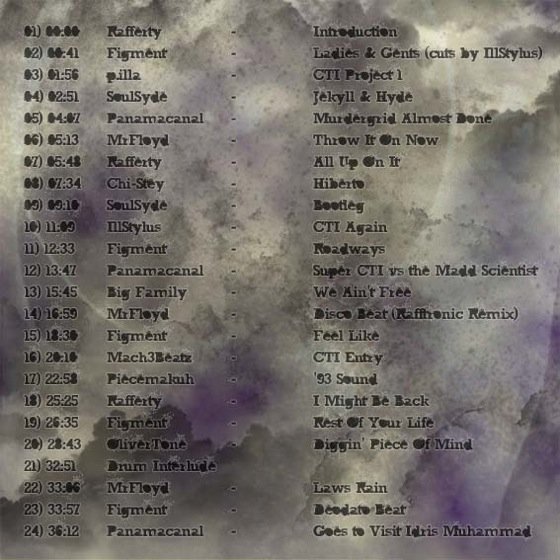 As you can imagine, the DIY mentality is in full effect here at Crate Kings.  Many of the readers believe that if you need something done right, especially with regards to music, you have to do it yourself.  Amazingly, a group of self-motivated producers have yet again come together to create another original instrumental, dare I say, album.
This time around, the CK crew united to pay homage and show respect to label CTI, owner/founder Creed Taylor, and a roster artists such as Bob James, Deodado, Milt Jackson, Joe Farrell, George Benson, and Idris Muhammad who played a pivotal role in the musical foundation of Hip-Hop music.  With the creation of the Crate Kings/Creed Taylor, Inc. project, twelve individual musical minds fused together into a single entity, shunning the concept of traditional A&R direction (an amazing feat in itself) to create a work that is truly original.
The project was completely self-contained even down to the cover artwork.  Each producer picked a original track, then sampled, chopped, processed, and programmed to make something completely new, while trusting one person to compile and mix the final results as he saw fit.
Hopefully, you'll enjoy this 40 minute instrumental project done purely out of love for the art and the intense desire to create quality music.
Please take a moment to download, listen, leave a comment, and spread the word.
Download: Crate Kings – Creed Taylor, Inc.
Mixed by Rafferty w/ artwork by Figment
01) 00:00 Rafferty – Introduction
02) 00:41 Figment – Ladies & Gents (cuts by IllStylus)
03) 01:56 p.illa – CTI Project 1
04) 02:51 SoulSyde – Jekyll & Hyde
05) 04:07 Panamacanal – Murdergrid Almost Done
06) 05:13 MrFloyd – Throw It On Now
07) 05:48 Rafferty – All Up On It
08) 07:34 Chi-Stey – Hiberto
09) 09:10 SoulSyde – Bootleg
10) 11:09 IllStylus – CTI Again
11) 12:33 Figment – Roadways
12) 13:47 Panamacanal – Super CTI vs the Madd Scientist
13) 15:45 Big Family – We Ain't Free
14) 16:59 MrFloyd – Disco Beat (Rafftronic Remix)
15) 18:30 Figment – Feel Like
16) 20:10 Mach3Beatz – CTI Entry
17) 22:58 Piecemakuh – '93 Sound
18) 25:25 Rafferty – I Might Be Back
19) 26:35 Figment – Rest Of Your Life
20) 28:43 OliverTone – Diggin' Piece Of Mind
21) 32:51 Drum Interlude
22) 33:06 MrFloyd – Laws Rain
23) 33:57 Figment – Deodato Beat
24) 36:12 Panamacanal – Goes to Visit Idris Muhammad
Total running time 40:05