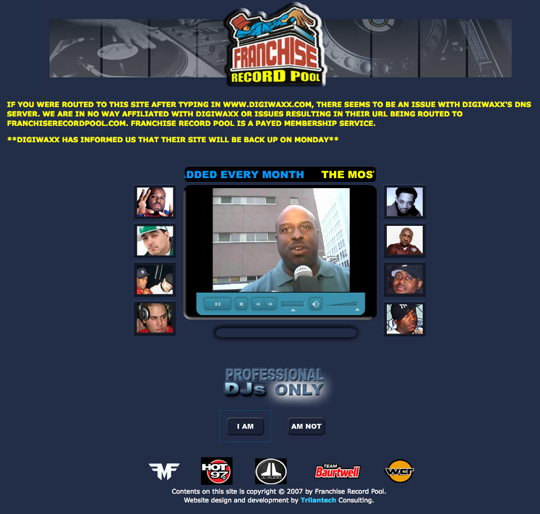 According to the bulletin sent by Digiwaxx Media, one of the largest free online MP3 record pools, their website has been hacked. Again, nothing unusual considering the recent comprising of urban websites, but here's where it gets really strange… their domain digiwaxx.com now redirects to Funkmaster Flex's Franchise Record Pool!
Digiwaxx states:
"Many of you may have noticed by now when trying to access www.digiwaxx.com or any of our related sites that you were directed to a different, unaffiliated web page. Please note, this was NOT our doing. OUR SITE WAS MALICIOUSLY COMPROMISED by a person that wishes to do harm to theCompany. (Hi Haters!)"

The Franchise Record Pool has issued the following statement:
"IF YOU WERE ROUTED TO THIS SITE AFTER TYPING IN WWW.DIGIWAXX.COM, THERE SEEMS TO BE AN ISSUE WITH DIGIWAXX'S DNS SERVER. WE ARE IN NO WAY AFFILIATED WITH DIGIWAXX OR ISSUES RESULTING IN THEIR URL BEING ROUTED TO FRANCHISERECORDPOOL.COM. FRANCHISE RECORD POOL IS A PAYED MEMBERSHIP SERVICE.
**DIGIWAXX HAS INFORMED US THAT THEIR SITE WILL BE BACK UP ON MONDAY**"
Update: Digiwaxx is back up and running while temporarily located here.