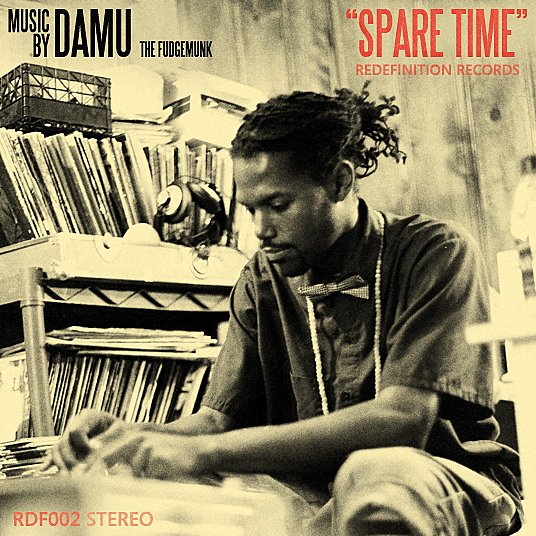 Some of my most exciting moments are taking part in exposing music and talent that is truly staggering. Luckily, running Crate Kings affords the opportunity to share some of these rare musical moments with a likeminded community of listeners itching to expand their musical palette. So, it should be of no surprise that Crate Kings would jump at the opportunity to join forces with Redefinition Records for the release of Damu The Fudgemunk's instrumental release Spare Time.
You've no doubt seen Damu making the rounds with his signature beat videos and live instrumental showcases or may have even been one of the tastemaking elite who snatched up a copy of Y Society's (Insight + Damu) label release Travel At Your Own Pace. Well, there's now finally a solution for those listeners who've simply wanted hear what happens when a digital sampler is rocked to its full capabilities.
As the first in a multi-part instrumental series, The Fudgemunk dug into his vaults to compile this previously unheard collection of vintage beats. Spare Time breaks us off with crispy, sampled drums and intricately chopped to death samples destined to keep heads nodding and mp3 players rumbling until the next release. More than a mere beat snippet compilation, Spare Time presents full length tracks that showcase masterful low pass filtering and phenomenal breakdowns, many of which occur at the very end of the track. Always one to deliver what a beat head really craves, Damu embraces the essence of Hip-Hop by taking us on a sonic sound trip using only a stripped down Akai MPC 2000 and the honed skill of a master craftsman.

Free Download: Damu The Fudgemunk Spare Time
Also watch Damu as he gets down cutting, scratching, and blending his way through Y Society's album Travel At Your Own Pace and be sure to visit him at YouTube & Myspace.