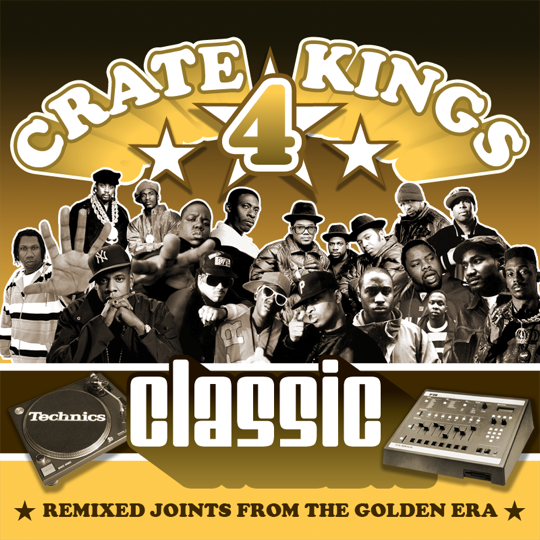 The fourth installment of Crate Kings marks a milestone as the first non-instrumental Crate Kings collaborative producer project. Ten producers remixed 20 classic tracks in an effort to pay tribute to classic artists, showcase the musical skill of each producer, and aid in the growth of the Crate Kings production community.
The fourth volume of anything is never easy, but I'm proud to say that a core group of Crate Kings readers and forum loyalists have yet again delivered by utilizing their ability to work together and bring new life to what were already amazing songs.
Whether it be P. Illa's reworking of Del La Soul's "Stakes Is High", Yabba's update to EPMD's "Strictly Business", or Figment's take on Jay Z's high-powered anthem "The Ruler's Back", there's no doubt that each track was crafted using a unique, yet powerful combination of talent, initiative, and drive.
Many thanks to each contributing producer and all the readers, forum members, and DJ's who've supported Crate Kings, therefore, directly contributing to the success of projects such as CK4.
Three different versions of CK4 have been supplied, depending on listener preference, so please feel free to download, listen, and spread the word in whichever way you choose.
Download: Crate Kings 4: Classic (Remixed Joints From The Golden Era)

Back Cover + Tracklist after the break!