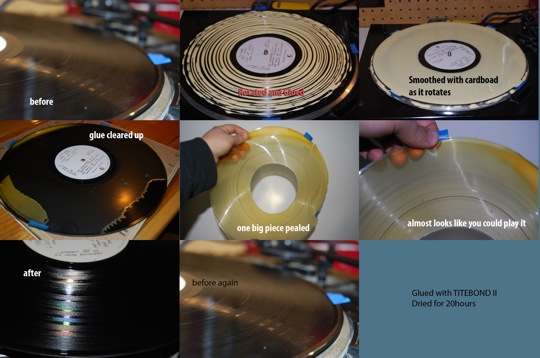 All vinyl collectors and DJ's share the same never ending annoyance, dust and grime on records. To deal with these issues, more adventurous vinyl collectors have tried more than their fair share of DIY methods and treatments, some of them a little crazier than others. This particular treatment happens to include, of all things, wood glue. [image via imgur]
Note: Crate Kings bears no responsibility for whatever you may do to your precious record collection, turntables, or other audio equipment.
Instructions go something like this:
Place you vinyl on a turntable, preferably a cheap one. No one wants to risk a nice Vestax or Technics turntable.
Start the turntable and begin to apply a steady, even stream of wood glue.
Smooth out the lines of glue as the record spins and allow the glue to dry completely, roughly 20 hours.
Use an Post-it or similar adhesive tab to peel the dried glue from the record.
Celebrate and brag to your DJ friends about your accomplishment.
Press your luck and grab some Titebond II wood glue or, if you have deeper pockets, go the higher end route with Record Revirginizer.