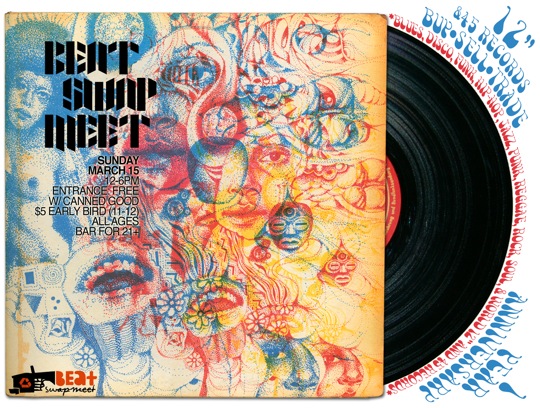 If you're in the Los Angeles area, there's no excuse not to head down to the 5th Official Beat Swap Meet. Sunday, March 15th will mark the 1 Year Anniversary as everything goes down with tons of records for sales, drinks for the 21 plus crowd, and 3 areas of Live DJ's including Mr. Choc, Bobby Soul, Gabe Real, Charlie Rock, and more spinning whatever the hell they want.
Bring your broken turntables and have them repaired by DJ Abel on the spot
Outdoor clothing vendor village featuring over 15 clothing brands & boutiques
12-6pm
FREE w/ Canned Good
11am-12 $5 Early birds
All Ages / Casual drinking for 21+
Grandstar Jazz Club in Downtown LA's historic Chinatown district
943 N Broadway Ave
Los Angeles, CA 90012
Head over to Beat Swap Meet's website for more info.