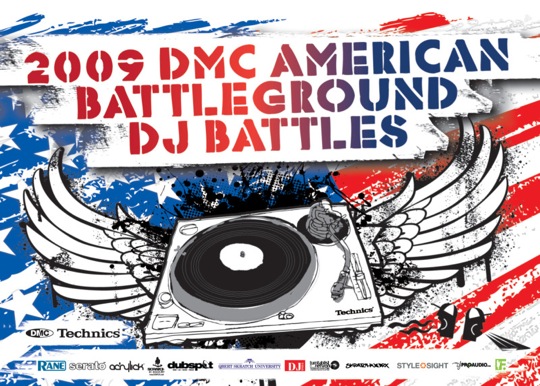 DMC USA has announced the schedule for the 2009 USA regional battles taking place in TX, NY, CA and LA, along with the DMC USA Finals being held in NYC on August 1. The 2009 DMC World DJ Championships will take place in London on Sept. 11th and 12th, 2009.
2009 DMC American Battleground:
May 29: San Antonio, TX
June 13: New York City, NY
June 27: Los Angeles, CA
July 10: New Orleans, LA
2009 DMC USA Finals:
Aug 1: New York City, NY
2009 DMC World DJ Championships
Sept 11&12: London
Prizes Include:
1st: The 2009 US Team, US Battle for Supremacy and regional champions will receive the recently released Rane SL 3 as well as prizes from our other sponsors.
2nd: Runners up in the Supremacy and regional battles will win UDG/Rane Creator Backpacks.
3rd: Regional DJs who place 3rd will receive UDG/Rane Messenger Bags.
See DMC USA for complete registration info.
Flyer back cover after the break!