It's been a bit of a crazy week for me. I finished the bulk of the Science Skateboards Mix CD, which features hip hop, original breaks and samples, rode an emotional roller coaster while going from absolute excitement about getting my hands on an advance copy of Jay Z's Kingdom Come to utter disappointment upon hearing it, tweaked the Crate Kings website a bit, and went to a live Lupe Fiasco show. All this while showing up to my J.O.B. is starting to get to me, but that doesn't really matter now does it? Let's get to the good stuff.
Future Plans For Crate Kings
For the past few weeks I've had a personal debate about the direction of Crate Kings and how to offer more to everyone. Ideas have ranged from offering obscure vinyl rips, classic hip hop albums, snippets, streaming broadcasts, interviews, and generally weird quirky stuff that you won't find anywhere else. The tough part is that I really don't want to step on toes with current album downloads and at the same time don't want to kill my bandwidth limit either. So… here's what we're gonna do. I'll post albums, mainly older, more obscure stuff that is in my opinion no longer commercially viable and will not rip or upload anyone's recent work or mix without first obtaining their explicit permission. Also, coming soon will be a free beat making video/tutorial section featuring a collection of quality production related goodies that I've stumbled upon. Please don't hesitate to contact me if you have a beat making video/tutorial, break mix or anything else that you would like to share with a large number of like minded heads. We'll deal with the bandwidth issue when it gets to a point that we need to be concerned.
Kingdom Come – Jay Z
I was hoping that with getting my hands on a advance promo copy of Jay Z's Kingdom Come, that I would be provided with an opportunity to hunt, find, and showcase some dope breaks and samples, but man was I wrong. Unfortunately, Jay has taken what I consider to be a turn for the worse and what I heard was somewhat of a disappointed. It's not that the album was poor by normal standard, but it's just not what I've come to expect from Jay Z. The production didn't feature a whole lot of sampling and was a little too polished for my tastes. I also realized that I've completely lost the ability to relate to anything that he talks about. So far I've listened to the album a few times and I don't think I'll make it to a third time unless forced to hear it blaring out of a car next to me in rush hour traffic. Damn shame…
Lupe Fiasco @ The Middle East – Cambridge, MA
Wednesday night I attended the Lupe Fiasco show. Doors opened at 8pm and local acts were scheduled to start at 9:30 with Lupe performing at 11pm. I felt like a bad, treasonous, and unsupportive hip hop head because in order to avoid watching the underground local acts, I left and went back home. It's a good thing that I did leave because Lupe didn't actually get on stage until 12am. I've vowed to start going to a lot more hip hop shows, but man I'm beginning to feel old, especially when I end up being out that late on a work night. I'm glad that I went though… was very impressed with the performance by Boston area artist Jake the Snake and of course Lupe was amazing. He had complete control of the crowd, amazing stage presence and a skilled hype man who knew exactly when to chime in and when to lay back in the cut. With all the entertainment that was happening on stage, there was almost just as much from the crowd itself. Of course I overheard the typical guy in the back of the club complaining about how wack and unresponsive the crowd was and as usual he was the same person who at the most exciting moments of the show was doing absolutely nothing but nodding his head. To be honest, he even had me wanting to go out and cop a pair of stunna sunglass and rock the Cartier watch, but let's chill with that. It's funny how you can almost tell a Lupe fan by their style of dress. It was like being at a convention of cats wearing a hoodies with a crazy print patterns and fitted 59/50 hats, I was tempted to run out of the place screaming that I'm "sick of name brand clothes" and the spouting the horrors of following music influenced fashion trends. Then again, I was rockin' my Chicago Cubs hoodie, so I can't really talk junk either.
Billy Cobham – Life & Times (1976)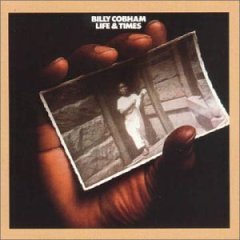 1.Life and Times (6:58)
2.29 (2:34)
3.Siesta/Wake Up!!! That's What You Said (3:57)
4.East Bay (6:08)
5.Earthlings (5:04)
6.Song for a Friend, Pt. 1 (5:03)
7.On a Natural High (5:17)
8.Song for a Friend, Pt. 2 (4:43)

Joints I'm Feeling Right Now:
Pete Rock & C.L. Smooth –

Mecca and The Soul Brother

Mic Geronimo – The Natural

Hard To Obtain – Ism & Blues

Soulman – From The Rock Section

Norman Connors – Dance of Magic

Freddie Hubbard – Red Clay

Redman – Doc's Da Name

Vintage back issues of various Hip-Hop magazines