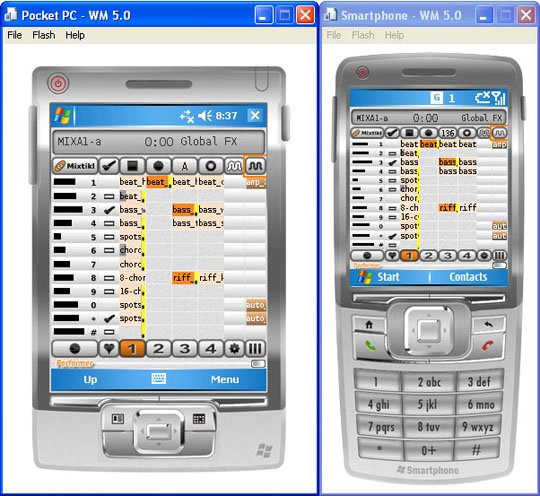 Continuing the recent flood of mobile music applications is the yet to be released Mixtikl created by Intermorphic. Although we only have screenshots at the moment, Mixtikl promises to not only be a robust mobile music application, but also a full plugin and standalone desktop app for both Windows and Mac OS X.
At launch this October there will be support for Windows Mobile with compatibility for iPhone & iTouch, Sympian, and Antix Game Player to come later.
Mixtikl Features:
Capture/Mix/Work on content on the move on your mobile; finesse on desktop using plug-in later; move back to mobile whenever you want.
Use loops, midi, generative music and modular synthesis.
Perform & play music on your mobile.
Create quick mixes, and mix and match sounds using the 'Remix' application.
Pitch shift your loops and apply realtime FX.
Act as VST or AU plugin in your VST/AU enabled sequencer.
Create, EQ and save a quick mix from up to 12 user selectable sound sources/loops, and apply FX
Edit synth sounds and patches directly, and create presets
Create custom DLS wavetables; bundle Ogg/Wav files, MIDI files, Noatikl files and other content together into a self contained "SKM" file.