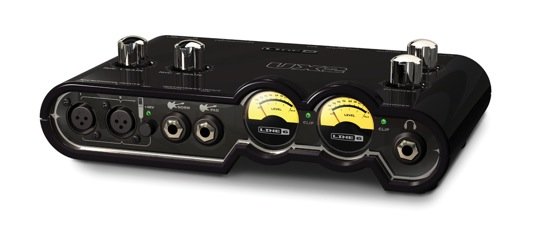 Line 6 has announced their new series of USB recording interfaces, POD Studio GX, UX1, and UX2. Also announced were the two recording plugins the POD Farm and POD Farm Platiinum. A nice thing to note is that while the interfaces range in price from the the entry level GX at $140 to the upscale UX2 at $280, each comes with the POD Farm plugin and option of upgrading to the Platinum version. Not at bad way to get started recording on a budget.
All POD Studio devices offer 44.1/48KHz, 16/24-bit recording for guitars.
The entry-level GX model features a basic 1/4-inch input. UX1 offers one 1/4-inch input, balanced XLR input with preamp, and two 1/4-inch analog outputs. The high-end UX2 model features two 1/4 inch inputs (one normal, one pad), two XLR inputs with preamps and phantom power, S/PDIF digital output, and a pair of assignable VU meters.
See Line 6 for more info.