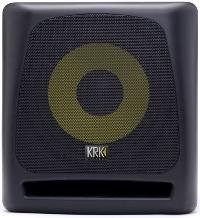 Just when you thought it was safe to lay off makin another purchase KRK Systems goes and announces a redesigned and updated version of its 10" recording subwoofer.
The design of the KRK10s utilizes research and development with the subwoofer's curved front matches the Rokit and VXT monitors' diffraction reducing shape and is also a great addition to other active or passive monitor setups, thanks to its integrated, adjustable crossover and numerous back-panel connection options.
Additionally, updated electronics include a ground-lift switch for combating troublesome electrical and audio grounding along with a bypass footswitch that allows the subwoofer and crossover to be easily enabled and disabled. The bypass footswitch allowing users to easily switch a mix from stereo or 2.1/5.1. There are also improved amplifier heat sinking for lower distortion at high power levels and a lower noise floor than the previous model.
See KRK for more info