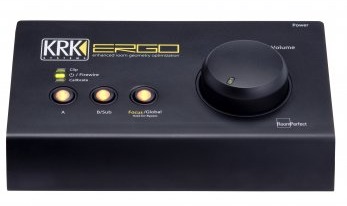 KRK Systems has announced worldwide availability of ERGO (Enhanced Room Geometry Optimization), which is a stand-alone hardware room correction system. With the aim of obtaining an accurate mix in less than ideal acoustic conditions, ERGO utilizes digital room analysis/correction and signal processing to measure, analize, correct phase/frequency problems.
ERGO features include Focus/Global Correction, A/B speaker controls, headphone volume, and calibration switch.
See KRK for more info about ERGO.