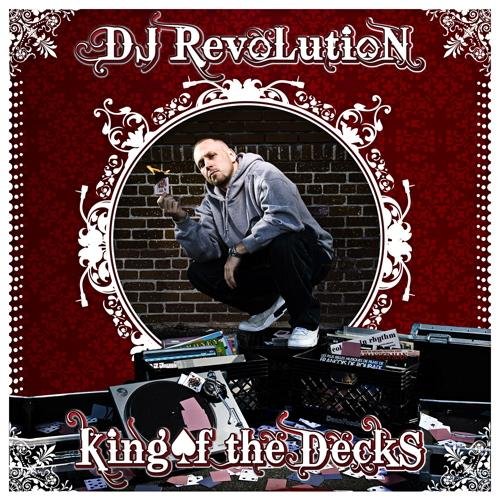 Connoisseurs of turntable skills and authentic Hip-Hop will instantly recognize the name of DJ Revolution as the musical backbone behind "The World Famous Wake Up Show" with Sway & King Tech. Back a number of years ago I was actually fortunate enough to have Rev spin a guest set on weekly radio show that DJ Trends and I hosted together. Was definitely one of my highlights from college radio, but its really no fun having to spin after him… he's got a uncanny knack for making other DJ's look like amateurs behind the decks.
Check out "The DJ" featuring KRS-One.
Visit DJREV.net, MySpace, and support the album when it drops.
Tracklist:
Intro featuring Jazzy Jeff
King Of The Decks featuring Sean Price & Tash
THE DJ featuring KRS ONE
Do My Thing featuring Guilty Simpson & Royce Da 5′ 9"
LADJ (skit)
Funky Piano featuring Bishop Lamont, Crooked I, Styliztik Jones
For The Kids (skit)
The Big Top featuring Special Teamz
Start The Revolution featuring Boot Camp Clik
Scratch Nerds (skit)
Invaders from the Planet Sqratch featuring DJ Qbert
EY! featuring Joell Ortiz and Termanology (Produced by DJ Revolution & DJ Numark)
Casualties of Tour featuring Rakaa Iriscience (produced by Marco Polo)
Damage featuring Blaq Poet & Bumpy Knuckles
Willie Lynch featuring Styliztik Jones and KBimean
The Biggest Up ft. DJ Premier (Skit)
Blow Da Spot featuring Strong Arm Steady
School featuring Planet Asia
Spit Ridiculous featuring Defari
Pro's & Con's featuring Evidence
Calling Haul (Skit)
Man or Machine
The Set Up featuring Sway & King Tech
The Re-match featuring DJ Spinbad
ALL SONGS PRODUCED, MIXED and ARRANGED by DJ REVOLUTION