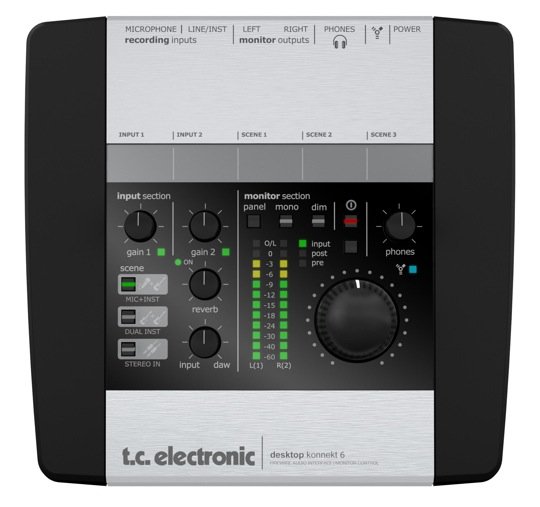 The selection of entry level audio interface keeps increasing. T.C. Electronic has introduced the Desktop Konnekt 6 FireWire audio interace. At an MSRP of $295, the interface offers a lot of bang for the budge and includes feature such as:
High resolution meter
Tracking reverb level control
Direct monitor control with input/DAW control
DIM switch for convenient speaker dimming
Instant scene recall
Separate headphone level control
IMPACT™ Mic preamp with 48v phantom power
Input configuration: mic + instr/instr+instr/stereo line
Balanced stereo outputs
True Hi-Z guitar inputs known from TC's high-end guitar processors
Headphone out with separate level control and separate source
Studio sound reverb based on hardware technology
Hall, Room and Plate algorithms
Part of monitor mix and included as VST/AU compatible plug-ins
Cubase LE4 included
C NEAR™ compatible: works with all other Konnekt products
FireWire 1394, bus powered
DICE™ digital interface chip with JetPLL™ jitter elimination technology
Low latency drivers for Mac and PC, WDM, ASIO and CoreAudio
24-bit/192 kHz sampling rate
External power supply included
See T.C. Electronic's website for more info.