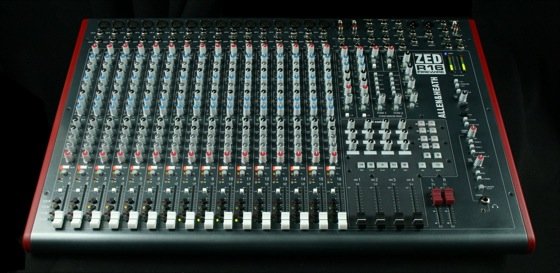 Looking for a way to make your home studio the envy of your beat making friends? Today gear manufacturer Allen & Heath announced the launch of their first dedicated recording mixer in over 10 years! In addition to multi-track recording, the ZED-R16 allows mixing down in analogue, then recording back into the computer in digital.
The ZED-R16 can be employed as a standard analogue mixer while recording multi-track via FireWire or ADAT, a traditional inline mixer recording with send and return per channel via FireWire, or as a MIDI controller via switchable channel faders.

Features Include:
MIDI controls
16 mono inputs
2 stereo inputs
High quality dual mic pre-amp
4-band fully-parametric EQ
4 auxes, a stereo bus
2 stereo returns
18+18 FireWire I/O
8+8 ADAT I/O.
Control room speaker outputs,
Two separate artist monitor feeds,
Two analogue recording outputs in addition to the digital interface, and a
Dedicated internal condenser talkback mic.
ZED-R16 is also bundled with Cakewalk's SONAR LE music production software.