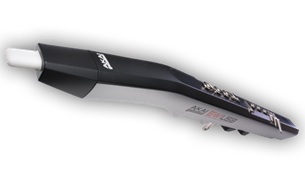 The holiday season is here and Akai has come bearing gifts with the introduction of the EWI USB Wind Controller. The EWI USB Wind Controller enables anyone, regardless of wind instrument-playing experience, to perform with the expressive capabilities of the wind instrument of their choice.
Features include a five-octave range, breath modulation, pitch bend, adjustable vibrato, transposing and octave shifting, and fingering modes to emulate various electronic and acoustic instruments. The EWI USB is Mac and PC compatible.
With an retail price of $499… things could be very interesting.
See Akai for more info.