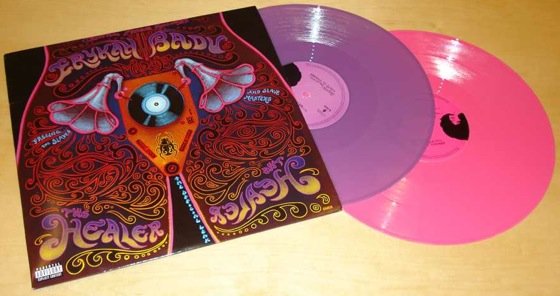 I woke up today and couldn't decide which I love more, Fridays or April weather, so we decided to have a giveaway to celebrate both! Up for grabs is a limited edition copy of Erykah Badu's "The Healer" w/ "RealThang" pressed on purple and pink vinyl. All real DJ's out there know the irresistible allure of colored vinyl, so you'd better hop on this one!
Erykah Badu – "The Healer"/"Real Thang" Limited Edition Purple & Pink Vinyl
Record 1 – Purple Vinyl
Side A:
1. The Healer (Produced By Madlib)(Clean Version)
Side B:
1. The Healer (Produced By Madlib)
Record 2 – Pink Vinyl
Side C:
1. Real Thang (Produced By Madlib)(Extended Play/Main)
2. Real Thang (Produced By Madlib)(A Cappella)
Side D:
3. Real Thang (Remixed By Rashad "Ringo" Smith/Tumblin Dice)
4. Real Thang (Remixed By Green Lantern)
To win you must submit a comment to this post with the answers to the following 2 questions:
What is your favorite Erykah Badu song or guest appreance and why?
What would you want to see improved or added to CrateKings.com?
We'll choose the best response as our winner. Comments must be submitted before 12a.m Thursday, April 17th to be entered. You may comment multiple times with no penalty. You must provide name and email address in your comment to be considered.
Also, if you haven't already, head on over and check out the Erykah Badu "Real Thang" remix contest for your chance to shine and win some highly coveted prizes!