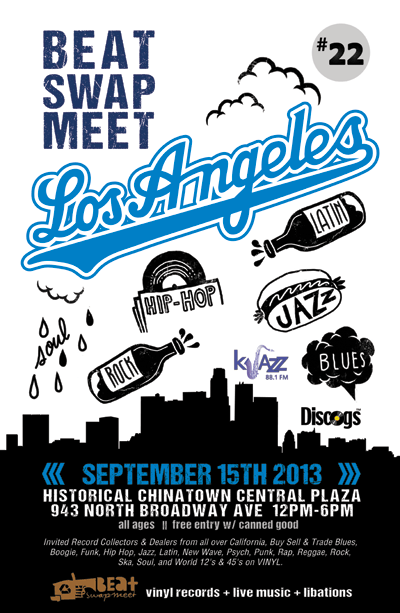 Sunday afternoon, September 15th 2013
Entrance is Free w/ a Canned Good. Lets do what we can as a music community to let our vibrations be heard and help out those less fortunate. Please bring a canned good to donate to the cause.
B E A T – S W A P – M E E T
L O S – A N G E L E S (#22)
Beat Swap Meet is a celebration of vinyl culture. Over 50 Invited Record Collectors & Dealers from all over the West Coast and beyond, Buy Sell & Trade: Blues, Boogie, Funk, Hip Hop, Jazz, Latin, New Wave, Psych, Punk, Rap, Reggae, Rock, Ska, Soul, and World 12's LP's & 45's on VINYL.
Get ALL the info