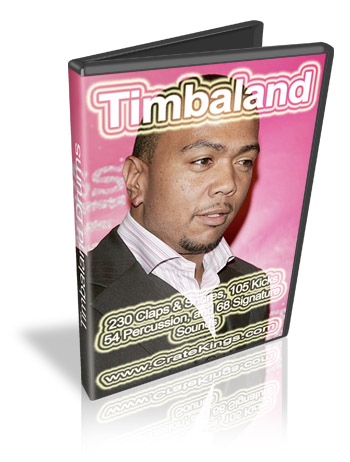 Timbaland is one of the greatest all time producers in Hip Hop and R&B so we had offer this unique kit. This Timbaland collection was customized to sound just like Beat Club's scorching drums. This drum kit supplies you 230 claps & snares, 105 kicks, 54 percussion and 68 signature sounds for a total of 457 unique drum samples and sounds that are guaranteed to make you beats bang!
The Timbaland Collection Drum and Sound Kit is compatible with…
* Reason
* Fruity Loops
* Korg Triton
* Yamaha Motif
* Akai MPC 2000, 3000, 4000, 1000, and 500
* Gigasampler
* Sony ACID
* Ensoniq ASR-10 & ASRX
* Any Sampler that reads WAVs
All samples are in 44.1khz in 16 bit WAV files for any hardware or software sampler that work with .WAV files.
Be sure to check out the Crate Kings forums for production tips, advice, and beat battles!
Only $19.99