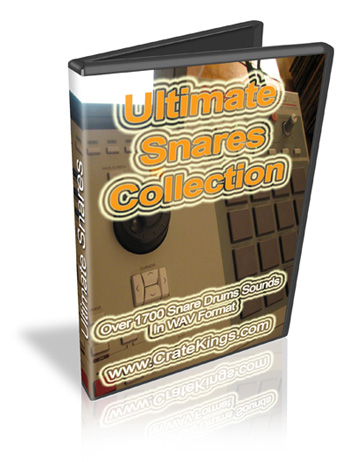 It took a little while, but our first drum kit release is finally here… Crate Kings presents:
The Ultimate Snare Drums Kit
We have the ultimate drum kit to get you started in production and dug deep in the crates to put together this collection of the finest drum breaks. This provides up and coming producers with all of our best custom snare drums straight from the crates. This drum kit supplies you 1726 crispy snares that are guaranteed to make you beats knock!
The Ultimate Snare Drum Kit is compatible with…
* Reason
* Fruity Loops
* Akai MPC series
* Korg Triton
* Yamaha Motif
* Gigasampler
* Sony ACID
* Ensoniq ASR-10 & ASRX
* Any Sampler that reads WAVs
All samples are in 44.1khz in 16 bit WAV files for any hardware or software sampler that works with .WAV files.

Only $39.99
Also visit the Crate Kings Hip Hop Samples and Drums Store