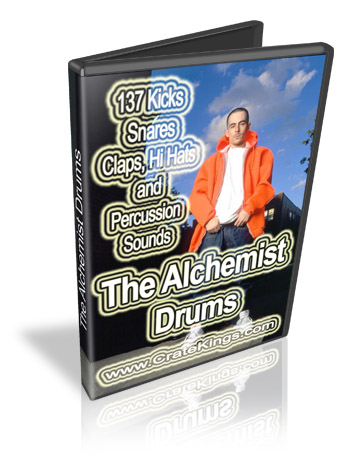 Acclaimed producer The Alchemist is best known for signature dark, grimey tracks that provide a chilling backdrop for many of your favorite artists including: Mobb Deep, Infamous Mobb, Jadakiss, and Dilated Peoples.
With this customized drum kit you'll have access to over 130 of the tightest kick drums, snares, claps, and percussion sounds so that you can focus on making the beats that legends are made of.
The Alchemist Samples and Drums Kit is compatible with all samplers that use .wav files…
* Reason
* Fruity Loops
* Korg Triton
* Yamaha Motif
* Akai MPC 2000, 3000, 4000, 1000, and 500
* Gigasampler
* Sony ACID
* Ensoniq ASR-10 & ASRX
* Any Sampler that reads WAVs
All samples are in 44.1khz in 16 bit WAV files for any hardware or software sampler that work with .WAV files.
Please note that sound kits are delivered electronically. Payments are made through Paypal and download links instantly sent to you via email. If enabled, please make sure to check your spam filter, especially if you are a Hotmail or Yahoo user.
Be sure to check out the Crate Kings forums for production tips, advice, and beat battles!
Only $19.99