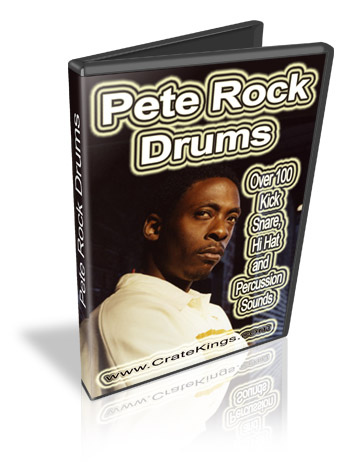 Soul Brother #1… The Chocolate Boy Wonder… Pete Rock was and still is the master of the EMU SP 1200 and Akai MPC 2000XL samplers. Let's face it… Pete Rocks signature horns and flawless remixes saved the careers of many Hip Hop artists. With the release of Mecca and The Soul Brother and the intricate layering of a multitude of samples, Pete Rock forever changed the face of sampling and production. He also made huge contributions to groups such as Public Enemy, Das Efx, Heavy D, House of Pain, InI, Edo G, Rakim, and Run D.M.C.
You now finally have the chance to add the most soulful sounds to your collection and make your beats stand out and get the attention they deserve with over 100 unique kick drums, snares, claps, and percussion sounds.
The Pete Rock drums and sample kit is compatible with all samplers that make use of .wav files…
* Reason * Fruity Loops * Korg Triton * Yamaha Motif * Akai MPC 2000, 3000, 4000, 1000, and 500 * Gigasampler * Sony ACID * Ensoniq ASR-10 & ASRX * Any Sampler that reads WAVs
All samples are in 44.1khz in 16 bit WAV files for any hardware or software sampler that work with .WAV files.
**Please note that sound kits are delivered electronically. Payments are made through Paypal and download links instantly sent to you via email. If enabled, please make sure to check your spam filter, especially if you are a Hotmail or Yahoo user.
Be sure to check out the Crate Kings forums for production tips, advice, and beat battles!
Only $19.99