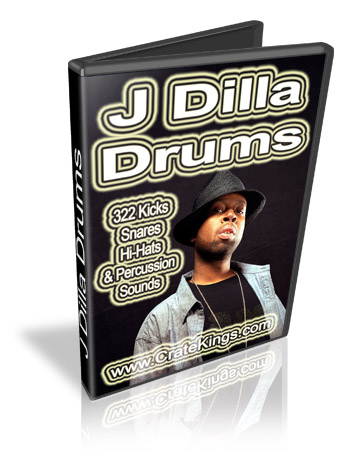 We all know that J Dilla is the all time king of drum layering and programming. Crate Kings had to pay homage J Dilla with this drum and samples kit containing a total of 332 drums sounds including: 46 hi-hats, 90 kicks, 41 percussion, and 145 snares and claps.
With this kit you will have access to the same unique drums that allowed Dilla to dominate the Akai MPC 3000 with a flare like no other.
The J Dilla Drums and Samples Kit is compatible with all samplers that use .wav files…
* Reason
* Fruity Loops
* Korg Triton
* Yamaha Motif
* Akai MPC 2000, 3000, 4000, 1000, and 500
* Gigasampler
* Sony ACID
* Ensoniq ASR-10 & ASRX
* Any Sampler that reads WAVs
All samples are in 44.1khz in 16 bit WAV files for any hardware or software sampler that work with .WAV files.
Only $19.99