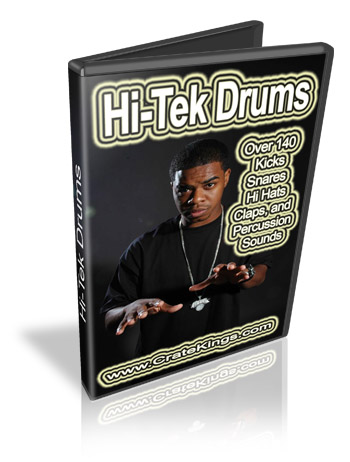 Hi-Tek blew the doors off of Hip Hop with the debut of Mos Def and Talib Kwelib as Blackstar. With the later release of Reflection Eternal, Hi-Tek set the stage for the next wave of drum programming, intense record digging, and soulful loops.
Get the ultimate edge over the competition with this compete kit containing over 140 unique kick drums, snares, claps, and percussion sounds. Your production quality will increase by leaps and bounds with this invaluable kit that is destined to be a Crate Kins best-seller.
The Hi-Tek drums and sample kit is compatible with all samplers that make use of .wav files…
* Reason * Fruity Loops * Korg Triton * Yamaha Motif * Akai MPC 2000, 3000, 4000, 1000, and 500 * Gigasampler * Sony ACID * Ensoniq ASR-10 & ASRX * Any Sampler that reads WAVs
All samples are in 44.1khz in 16 bit WAV files for any hardware or software sampler that work with .WAV files.
**Please note that sound kits are delivered electronically. Payments are made through Paypal and download links instantly sent to you via email. If enabled, please make sure to check your spam filter, especially if you are a Hotmail or Yahoo user.
Be sure to check out the Crate Kings forums for production tips, advice, and beat battles!
Only $19.99